Goodness from the garden and the farmers market is what this Sicilian veggie stew is all about.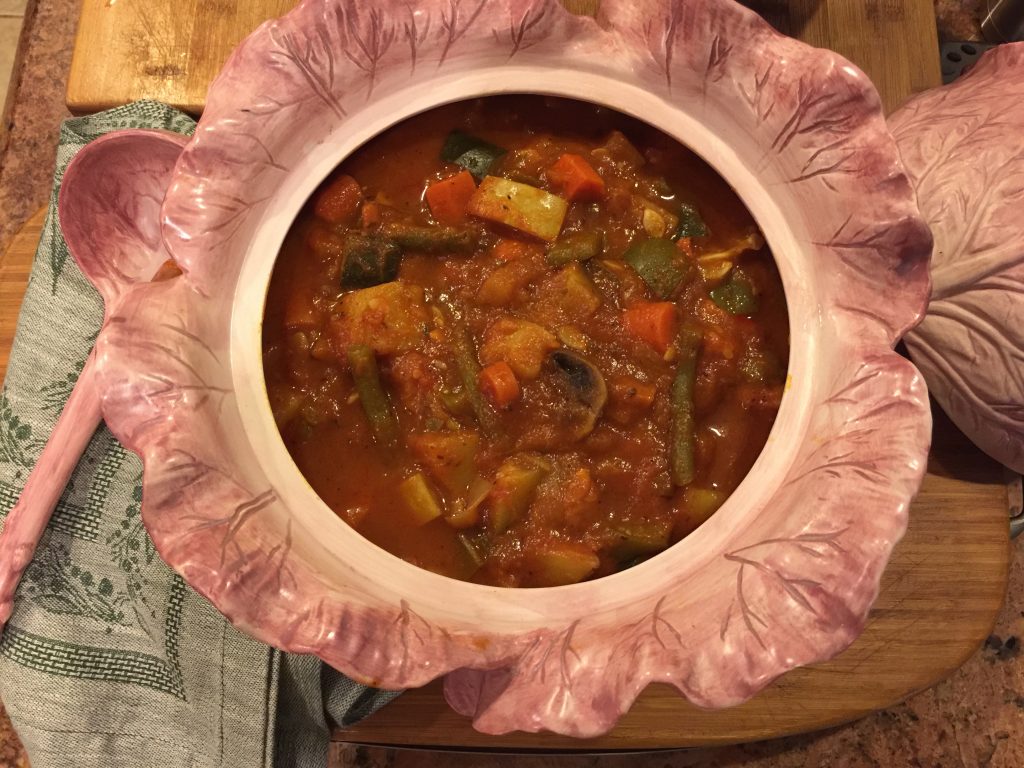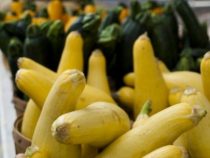 It all started with three large yellow squash, a generous gift from my Palm Beach Gardens Green Market neighbor Veronica, of Ms. V's Organics, msvorganics.com All the way home from the market that day, I thought about how I would use this lovely gift, but nothing came to mind.
Then, as I checked the fridge to see what else was on hand, and a began pull I recalled a veggie stew that my Grandma Jennie had frequently made when she had loads of squash on hand and odds and ends of other veggies.
Her stew recipe always started with those hefty, light green squash (cucuzza) that grew up the fence that separated our garden from our next door neighbor's. Cucuzza (or gagoots as we mangled the pronunciation) is still popular as a summer squash variety with Italian gardeners in the Northeast.Whatever else populated the stew, the cucuzza was the main event, and I find that whenever I make it, squash, of any or multiple varieties, is still the anchor vegetable.
The recipe for this stew is so flexible as to be almost no recipe at all, so it's a bit different each time I make it, based on what's fresh, available and in the fridge. I also add whatever fresh herbs are on hand at the time–oregano, thyme or rosemary– in addition to my favorite basil from the garden. I've also been known to  add some chickpeas, cannellini beans or kidney beans when I want to boost the protein and serve it as a winter supper. And true to my olive oil roots, an additional drizzle of olive oil at the table is always the grand finale.
Grandma Jennie's whose family was from Palermo, Sicily, always called this stew by its Sicilian name, giambotta, and I call it comfort food to the max! You might not ever see it on an Italian restaurant menu, although this summer, when I visited Giovanna's Café a favorite breakfast spot in Ramsey, NJ, giovannascafe.com, I was delighted to see there was a giambotta omelet on the brunch menu, and I've also caught sight of the word now and then on some family-run food outlets.
It's a word that I've always believed loosely translates as "jumble" and when I see the bright and lovely colors of the vegetables in the pot, it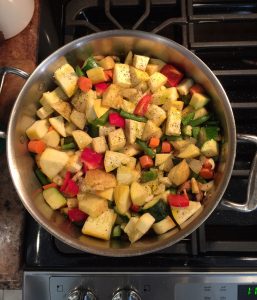 seems a fitting word. It also seems a good bet that the stew came about as a way to use up an abundance of summer vegetable bounty, as well as a way to feed and comfort a  hungry family. When I sit down to this meal that only needs a loaf of excellent Italian semolina bread to be complete, I am as warmed by the memory of meals at Grandma's table, as I am by the richly melded flavors in this humble veggie stew. Mangia!
Giambotta (Sicilian Veggie Stew)
Serves 4 to 8
Ingredients
Base:
1/3 cup extra virgin olive oil
1 large sweet onion, chopped
2 ribs celery, sliced
1 clove garlic, minced
Vegetable mix (this can vary, based on what is available):
2 large yellow or summer squash, cut into chunks
2 large zucchini, cut into chunks
4 medium carrots, cut into chunks
1 medium bell pepper, seeded and cut into chunks
2 to 4 ounces green beans
2 to 4 ounces sliced mushrooms
2 large potatoes, peeled and cut into chunks
Salt and pepper
1 bay leaf
Fresh herbs as desired
1 can (28 ounces) tomato sauce
4 cups water
2 tablespoons tomato paste
4 ounces dry red wine, optional 
Preparation
In a large (8-quart or more) saucepot, heat 2 tablespoons olive oil over medium heat until shimmering. Add onion, celery and garlic and cook until onions are limp.

Add vegetables and remaining olive oil and mix well; season mixture generously with salt and pepper. Add bay leaf, and herbs as desired. Cook and stir a few minutes, then add tomato sauce, water, tomato paste, and if desired, wine.

Bring to a boil, then reduce heat to low and simmer, stirring occasionally until vegetables are fork tender.