Welcome to The Olive-Skinned Cook!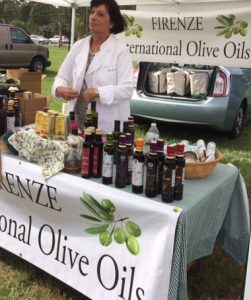 I'm creating this blog as a natural extension of the Firenze International Olive Oil e-commerce site. It's my way of  personalizing the buying experience online in much the same way I do when I talk directly with customers who stop by our stand at our various South Florida Green Markets.
It's always a privilege and my great pleasure to chat with anyone who pauses to look at our products, and I delight in offering tastes of our extra virgin olive oils, vinegars and condiments. It's a joy to answer myriad questions and queries, from the authenticity and origins of the products we chose, to how I got started in this business, and practical and creative uses for our products. The international aspect of the products we sell invites much conversation, and I love hearing stories of our customers' travels, of wonderful, magical meals they've had while traveling, and what food and experiences they've encountered at home or away, fabulous or not so. On the flip side, I'm not at all shy about sharing my own family, food and travel experiences.
And, that's how this blog commences: me chatting with you about food, family, cooking, life, health and well-being with the good intention of being helpful, informative and I hope, a bit entertaining as well.
Speaking of food, family, and of course, really good olive oil…hope you enjoy my first post!