The Best Sheet-Pan Chicken Recipe Ever, Thanks to My Italian Grandfather!
Poppa's Lemon-Mint Chicken recipe is oven roasted on a sheet pan and the result is simply scrumptious.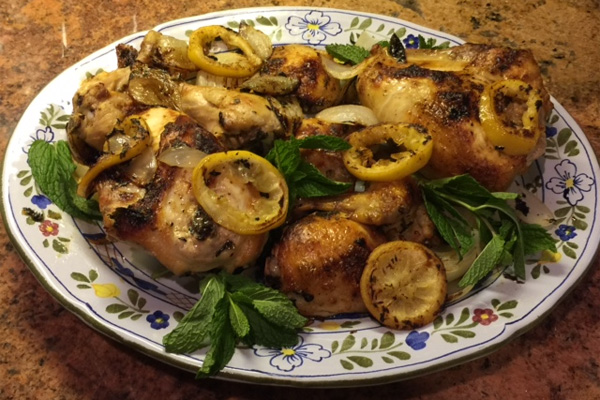 In the world of food, I have found that many of the most delicious ideas come not from brainstorming sessions and hours of research, but from memories. Many chefs, restaurateurs and food professionals that I know credit food memories as the basis of their passion, whether it was the comfort of Mom's meatloaf dinners, the reminder of Dad's weekend pancake breakfasts, or the enticing aroma of a pot of Grandma's Sunday sauce. In my case it was my Grandfather's lemon-mint chicken recipe, roasted to juicy, aromatic perfection on a sheet pan.
 He didn't call it that, in fact, he never called it anything, but it was front and center in his rotation of main plates or secondo, in the language of the meal pattern he and my grandmother followed from their native Italy.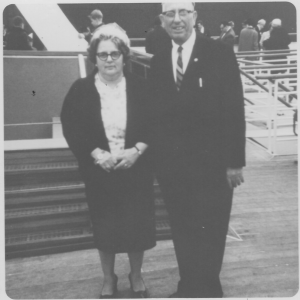 Their meals, so different from those prepared by my Mom, who hailed from the great Southern state of Georgia, consisted of a small plate of pasta (he could make pasta with anything taste ambrosial—more about that in another post), a small piece of meat, often chicken or veal, seasonal vegetables (contorni), and a lightly dressed salad of seasonal greens (ensalade). If there was dessert, it would be fruit, with or without piece of cheese, or in summer, sliced peaches in red wine (still my favorite!). 
The chicken recipe was prepared quickly and efficiently, without much prep work or fanfare. Perhaps that's one reason why it's been a favorite of mine for so long– it's so easy. Poppa always laid the chicken out in a shallow rectangular pan or baking sheet, like the ones my Grandmother used for her famous Friday night anchovy pizza. And through the years, cooking both personally and professionally, I've made this sheet-pan chicken recipe knowing it would be well received.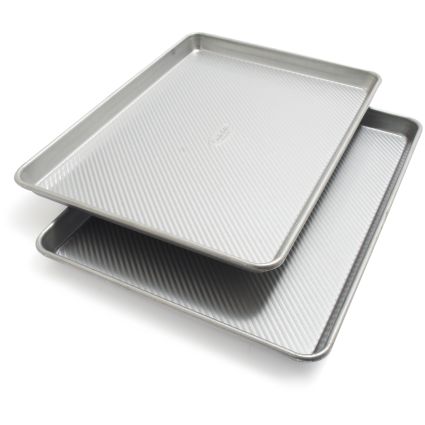 After trying many sizes, shapes and brands of sheet pans over the years, I've come to rely almost exclusively on the pans made by USA Pan. A few years ago, when I made my annual trip to Chicago to attend the International Housewares Show, I was given a sample of one size of the pan to try and was impressed by its strength – it's aluminized steel, so no warping as it came out of the oven — a huge plus! I also liked the silicone nonstick surface, the incredible range of sizes available – toaster oven sheet pans to full size sheet pans, cake pans to cookie sheets. And the clincher for me, they're made right here in the USA.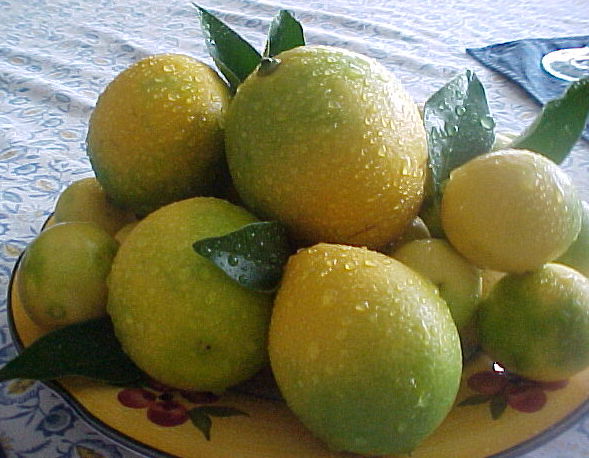 Another reason this recipe is a favorite is that it's 100 percent delicious, creating a wonderful aroma of lemon, mint and garlic on roasting chicken pieces, that wafts through the house and entices everyone to the table. It's a kick to be using lemons that have grown on trees in my own backyard and mint that's been plucked from a lush potted bush on my patio.
And over time, I've discovered yet another reason it's the best sheet-pan chicken recipe ever —its versatility. Varying the herbs and/or the citrus, and/or adding vegetables at the right time turns this already-easy recipe into a treasure trove of easy meals (see the Swap Outs box).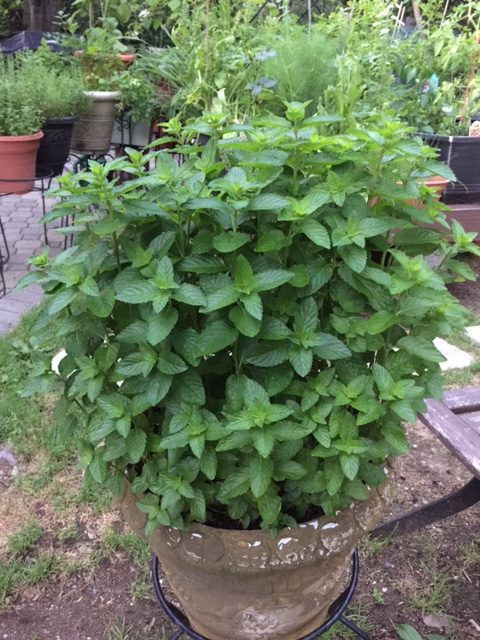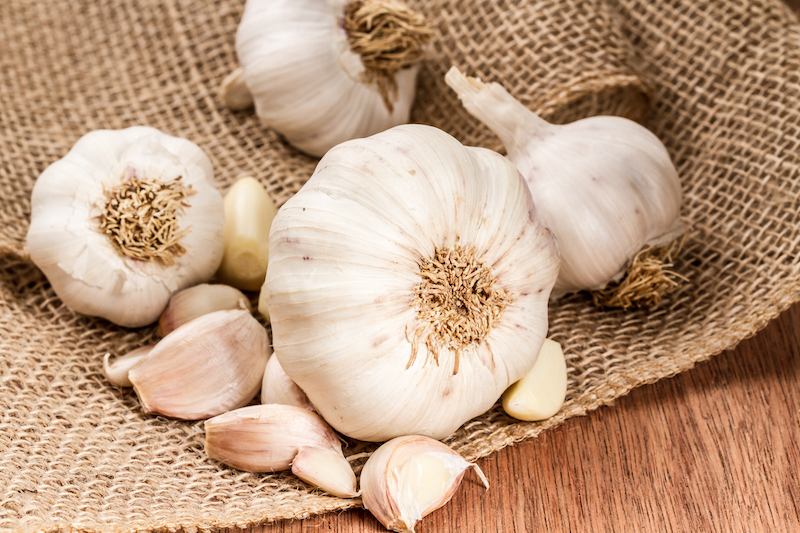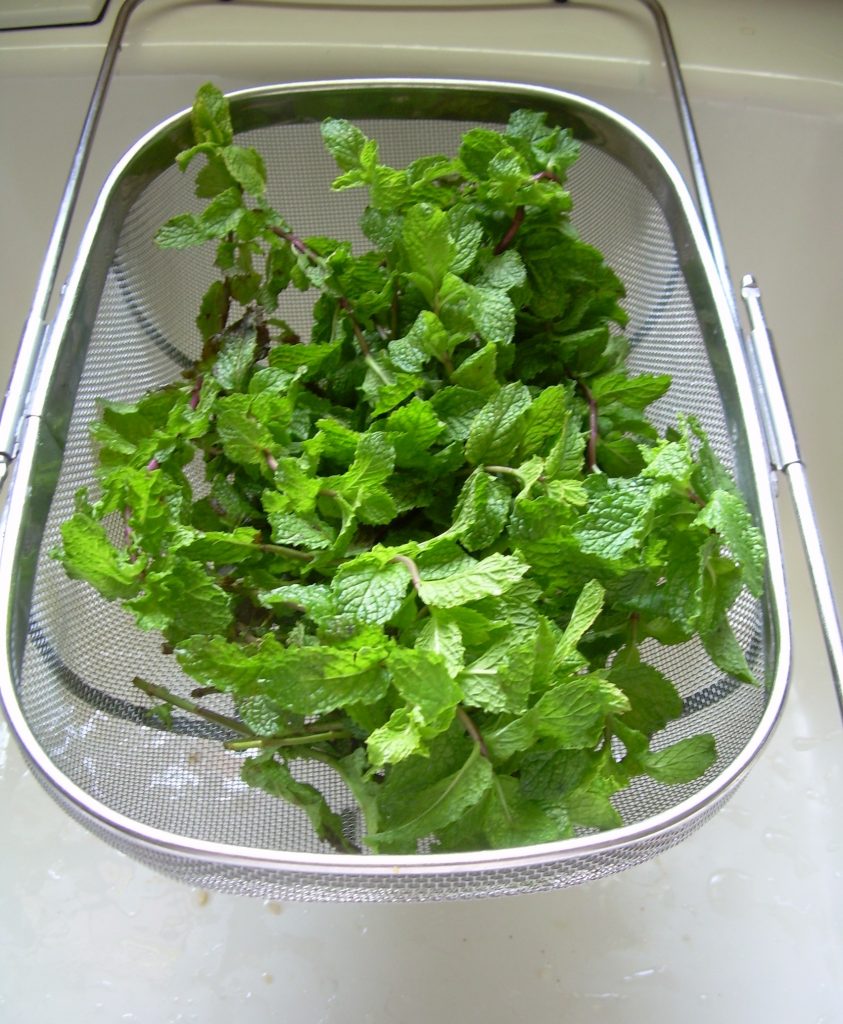 Poppa's Lemon-Mint Sheet-Pan Chicken
Ingredients
1 bunch mint, washed and dried
3 lemons, rinsed and dried
1/2 cup excellent quality Sicilian or favorite extra-virgin olive oil, divided
2 cloves garlic, smashed
Sea salt and coarsely ground black pepper
1 roasting chicken (about 5  pounds), cut into 8 pieces 
2 large onions, each cut into 8 wedges
Crusty Italian bread for serving*
Preparation
Chop some of the mint leaves to equal ¼ cup; add to a gallon size plastic storage bag with zip closure. Reserve remaining mint. Remove zest from one lemon and squeeze juice. Add to bag with mint; add garlic and pour in 1/4 cup of the oil.




Simple Swap Outs 

for Multiple Meals

Tuscan:  Substitute rosemary for the mint. Add quartered small red potatoes, tossed with olive oil, salt and pepper with the onions and lemons.

French:  Substitute fresh tarragon for the mint; add 1tablespoon Dijon mustard to the bag with the olive oil. Add 8 ounces thickly sliced white or brown mushrooms with the onions and lemons.

Spanish:  Substitute oranges for the lemons; substitute  

Mexican:  Substitute fresh oregano and chopped cilantro for the mint; substitute limes for the lemons. Add 1 teaspoon ground cumin to the bag. Add 2 sliced seeded jalapeño peppers with the onions and limes. 

Caribbean: Substitute limes for the lemons; add 1 teaspoon Jamaican jerk seasoning and chopped cilantro to the bag. Add 2 cups cubed mango tossed with olive oil, lime juice and 2 teaspoons brown sugar with the onions and limes.

Southern:  Substitute thyme for the mint; oranges for the lemons; add thickly sliced sweet potatoes, tossed with olive oil, 2 tablespoons maple syrup, salt and pepper with the onions and oranges.

Season chicken pieces liberally on both sides with salt and pepper. Add chicken pieces to the bag; seal bag and turn over and massage chicken pieces in the bag a couple of times to coat evenly. Place bag on a plate and refrigerate at least 1 hour. 

Remove bag from refrigerator and let stand at room temperature while oven is preheating. 

Preheat oven to 425°F.

Remove chicken pieces from the bag and arrange in a single layer in a large baking dish. Drizzle marinade from bag over the chicken. Roast chicken for 20 minutes.

While chicken is roasting, slice

each remaining

lemon into 6 thick slices.

Add the lemon slices, onion wedges and several mint sprigs to the baking sheet and continue to roast basting the chicken with the remaining olive oil, until the chicken is browned and crisp and cooked through (chicken breast internal temperature reaches 165° F. when inserted in the thickest part of the breast).

Let chicken stand for 10 minutes before removing chicken, lemons and onions to a warm platter for serving. Add additional sprigs of mint for garnish and flavor.
* Preparing this recipe on a sheet pan yields a crispier-skinned chicken with less pan juices for sopping. If more pan juices are desired, place the chicken pieces in a 3-quart baking dish and roast as above.